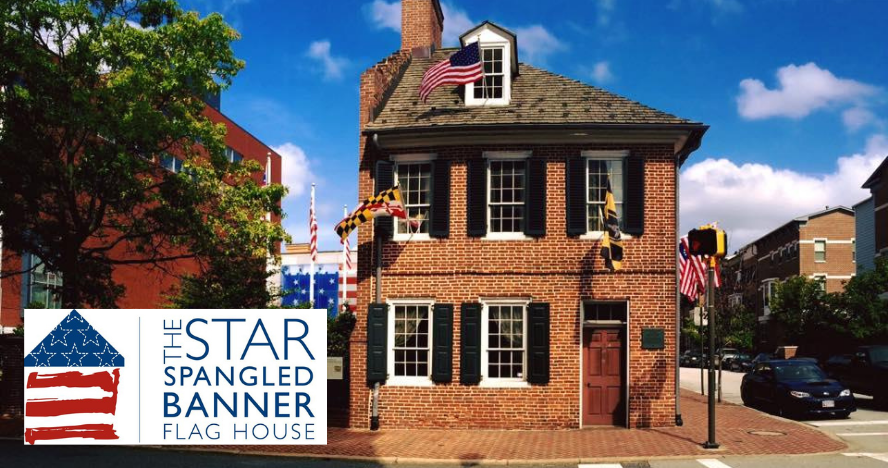 844 East Pratt St.
Baltimore, MD 21202
(P) 410-837-1793
About Us
At the Star-Spangled Banner Flag House, you'll find something quite rare: A fun-filled, interactive experience where you and your entire family will become part of one of the most important stories of our nation's history– the sewing of the flag that inspired our National Anthem. Here, you'll step into living history as you meet Mary Pickersgill, the spirited woman who made the flag. You'll learn first-hand from Mary, her family and friends what life was like in the 19th century and your kids can take part in activities that let them experience it for themselves. And you can do it all in a half day, with little strain on your entertainment budget.
Tours
Tuesday through Saturday
10 a.m. to 4 p.m.
Self-Guided Audio Tours are offered at any time 10:00 am – 3:00 pm.
Docent Led Tours (better for families with small children) are offered every hour on the hour from 10 a.m. to 3 p.m. Wednesday, Thursday and Saturday.
Admission Prices
Admission prices include a guided tour of the historic property, an exhibit located on the first floor of the Hofmeister Building, and our orientation film.
$8 Adult
$7 Senior (55 and Older)
$7 Military
$6 Student (Grades K through 12)
FREE Child (Under 6)
Parking
Limited FREE parking on Albemarle Street.
Parking garage directly across from Pratt Street entrance.